Welcome to The Soap Cinch® - the original, Patented, Bionic Loofah!™ Having recently made its debut within the bathing industry, the Soap Cinch® delivers unprecedented performance along with a fresh new approach to the standard way of washing.
Made from hypoallergenic, 100% hemp; the Soap Cinch® "single-handedly" raises the "bar" on all other washing devices by providing you with proper exfoliation & cleansing qualities while not requiring you to give up any of the positive results you are accustomed to having. Most Soap Cinch® users discover unexpected positive results that they either didn't know was possible or didn't know to expect. Performance, Convenience & Versatility all in one – this is what makes the Soap Cinch® The Next Generation of Bathing!™


While leaving your skin feeling silky and smooth, the Soap Cinch® beckons that you Expect More For Your Body™ as it is the only bathing device on the market today that allows you to wash your back AND your body while still providing you single-handed control - no more needing multiple devices!
Since its debut, the Soap Cinch® has also been carelessly compared to other washing devices in the industry such as a soap sack, soap saver, wash mitt or soap bag because of similar function and/or appearance, but make no mistake; the Soap Cinch® is the only true performer as it out-performs all of these devices and others – combined! This unmatched performance is why the Soap Cinch® continues to keep the bar raised!
Machine washable ~ Supports hygienic bathing
Can accommodate multiple bars of soap at once
Stimulates skin circulation ~ Helps remove cellulite
100% Hemp (exclusive of elastic and drawstrings)
Great for removing oils after a day of tanning

Uses 100% of soap ~ No more soap slivers

Hangs to dry ~ Eliminates soapy mess

Washes your back AND body

Compact ~ Perfect for travel

Explosive lather with bar soap

Helps extend soap-bar life

Hypoallergenic; latex-free

Soap pieces too small to use? Don't throw your money down the drain! Your Soap Cinch® can also fully use your normally wasted soap for many more useful washes; this feature alone pays for the Soap Cinch®!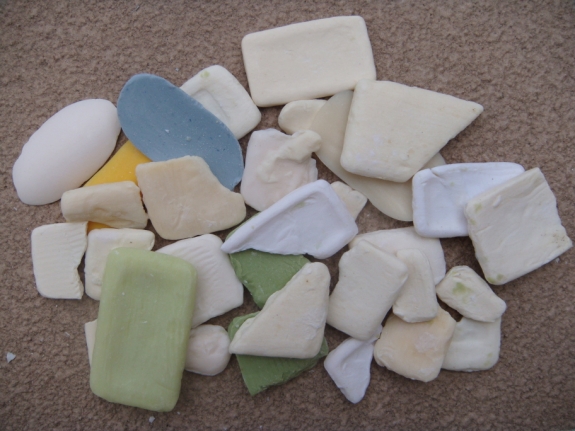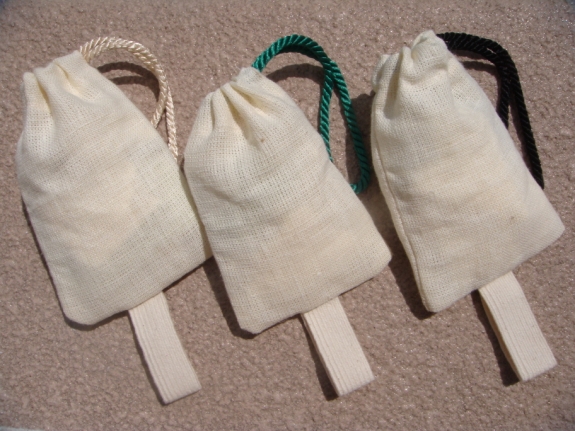 Pictured left is an actual, real-life example showing the amount of soap that the average family of three throws away in a 1 year period – over ½ lb of soap!

Pictured right shows that same amount of soap is enough to stuff three of the Soap Cinch® full for many more washes.

- You'll be impressed of how well the Soap Cinch® performs and how good it feels while you experience the immediate rich lather & exfoliating, cleansing feeling – the Soap Cinch® is a real treat. Whether you use just a plain bar of soap to shower with or multiple devices to reach your back & hard to reach places, the Soap Cinch® caters to all bathers and their routines alike – no need to change your washing methods, just upgrade your device! Once you discover what you've been missing with the Soap Cinch®, you won't believe how you managed without it for so long!

Testimonials
"I absolutely love this thing! I was looking for something like this and bought another less expensive "look alike". It did not do as well and I just threw my money down the drain (literally!). I will never do that again!"
- Lori H.
Norfolk, VA

"I got the Soap Cinch two weeks ago and my family loves it! My 4 year old thinks he is so cool using natural bar soap like mom & dad. It is really nice & I'm so glad that I ordered enough for the whole family. Thanks for making a good, quality product!"
- Jen M.
Medina, OH
"This is so much better than a washrag! No longer do I fumble with a slippery soap bar, I just grab and scrub. There is no more struggling to use that last sliver of soap, or throwing them away early. But best of all, the ledge in my shower is no longer caked with soap scum!"
- Jamie S.
Keystone, SD
"As a former "hand" washer, I can say that the Soap Cinch works so much better than using the soap bar & your hand alone. It gently exfoliates your skin & leaves you feeling really smooth. I used to drop the soap bar in the shower all the time & it was a pain to pick it up! With the Soap Cinch, I just slip my finger through the elastic at the end & have a tight grip on it. I also like that you can grasp it at both ends & wash your back. I hadn't really washed my back in years! I just feel so much cleaner now using the Soap Cinch. I'm so glad I discovered your products!"
- Janis B
McKinney TX
"I was initially just looking for a general soap sack and stumbled upon your site. The natural fiber was the real selling point for me and I'm glad it sold me! I'm now a happy camper with my new guilt-free joyful washing!"
- Kris S.
Somerville, MA
"I don't like the bother of using a washcloth, but this is great! It lathers up great and uses up all my soap. No more throwing out the little pieces."
- Gary L.
Bellefonte, PA
"Thanks for the fast service; my first Soap Cinch® arrived on Monday!! I Love it, I used it 5 times already – it makes my skin feel really smooth and soft!! It makes my natural bar soap lather up!! Thanks so much for a great product."
- Paul D.
Milwaukee, WI
"I'm hooked for life! I don't know that I would have originally gotten myself a Soap Cinch® because I thought I was content with what I had always used but I'm glad my wife did. I noticed not only the performance & convenience but also how the acne on my back & shoulders disappeared in about a week – Thanks!"
- Jimmy T.
Miami Beach, FL
"I am very impressed with the Soap Cinch®! Before I started using it, I used to use a washcloth but because my skin is so oily, I never really felt clean. Now that I use the Soap Cinch®, my skin always feels smooth and clean."
- Sara E.
Los Angeles, CA
"I love my Soap Cinch®! The lather is thicker and more luxurious than what I got when I used to use my plastic puff and shower gel. I love the fact that I don't have anymore slivers of soap looking slimy in the soap dish. One thing that I didn't expect was that each time I open my shower door, the Soap Cinch® makes my shower smell wonderful!"
- Judy W.
Daytona Beach, FL
"Best thing since soap on a rope, but it never runs out. Just put in another bar and keep going. No left over slivers either."
- Irving L.
Washington, NC